IATI's Registry has been improved to make it easier to sign-up as a new IATI publisher. Creating an account on the IATI Registry is the first step that organisations need to take in the process of publishing data to IATI.
The IATI Technical Team has launched improvements on the Registry, following a research project to understand the needs and difficulties of organisations who publish IATI data. Undertaken by the IATI Secretariat in 2021, this research project made recommendations on how to improve the tools and services available to support organisations publish their data.
Organisations will now find it easier to register accounts on the IATI Registry with new features including:
Clearer instructions on how to create both a publisher account for organisations and a user account for individuals who work for the publishing organisation.
A simpler publisher registration form
More automatic checks in the registration form, so users know when they have entered invalid information
Automatic emails to notify organisations when they've successfully created a publisher account and successfully published IATI data files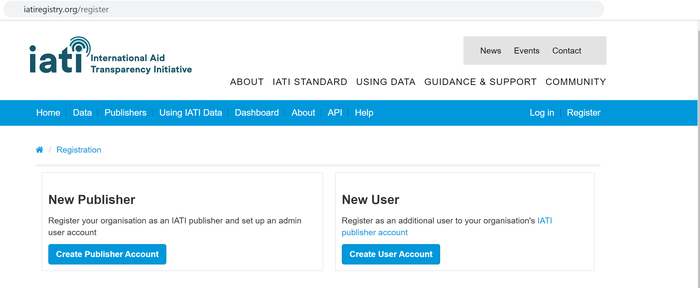 IATI's Registry has a simpler sign-up process
This simpler sign-up process will enable new publishers to quickly move onto publishing their own data in IATI.
Going forward, the IATI Secretariat will continue to implement improvements throughout the IATI publishing process, as recommended through their research. This includes creating a user-friendly IATI publishing tool, which will support organisations to convert their data into the XML format required by the IATI Standard.
For any questions about the changes on the IATI Registry, or if your organisation needs support on publishing IATI data, please email support@iatistandard.org.