Enhanced IATI Validator services have been released today, as a further step towards improving the quality of IATI data available on development and humanitarian resources and activities. The IATI Validator is a key online tool that checks if data complies with the rules of the IATI Standard and is available to anyone with an interest in the quality of IATI data.
What's new?
To meet key recommendations approved by IATI's Governing Board as part of the Technical Stocktake 2020, the IATI Secretariat's Technical Team has delivered:
New public IATI Validator API: For the first time, organisations can access an API to integrate IATI validation into their internal data systems and external tools.
New IATI API Gateway: users will be able to access the IATI Validator API via a new API Gateway. IATI's API Gateway has been launched today and provides a single point of access for all of IATI's API data services. The Validator API is the first resource available on the API Gateway, and the Technical Team is working towards adding all IATI APIs. This will enable the team to better track API usage, and protect them from overuse and abuse.
Improved user experience for online tool: whilst the online IATI Validator tool retains a familiar look and feel, it has received important technical updates and now delivers faster checks of data files. Users can also more easily identify and prioritise different error types with clearer messaging and use of different colours.
New home on IATI Unified Platform: Validator services have moved to IATI's new Unified Platform. This 'behind-the-scenes' technical change marks significant progress in IATI's evolution from a siloed set of technical tools and products to a single, integrated system architecture.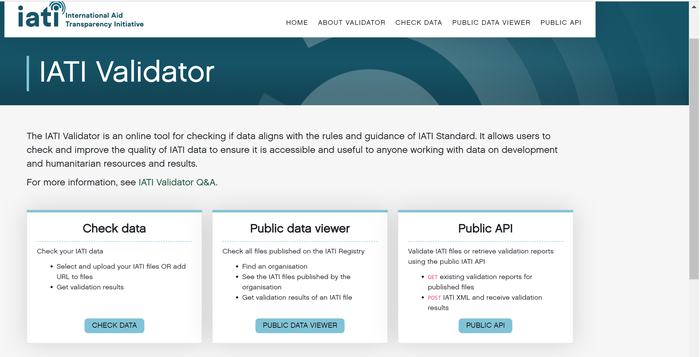 Discover enhanced IATI Validator services at iativalidator.iatistandard.org/
Making these essential changes brings the initiative closer to delivering IATI's Strategic Plan (2020-2025) objective of supporting organisations to publish the highest quality of IATI data.
Prior to its launch, IATI Secretariat's Technical Team completed rigorous testing with organisations keen to incorporate the Validator API into their platforms. The team received positive feedback during the testing phase, including:
''I have done some testing and overall I think it looks very good and would be very valuable for us"- Jan-Erik, Solutions Architect, Sida (Swedish International Development Cooperation Agency)
"Really nice product, well done!" Jurjen Verhagen, Founder of Zolabo and Creative Developer working with International Labour Organization
Why use the IATI Validator?
Organisations are strongly encouraged to use the IATI Validator to confirm that their data is accessible and of good quality. Taking these important steps towards improving data quality improves trust in the data and therefore also increases its utility for partner countries, civil society and other data users.
Organisations have the option of checking for errors in their data at key points during the process of publishing, including:
before publishing their files (using the Check Data feature)
after data has been published (using the Public Data Viewer)
integrating the Validator API into their internal data systems for periodic data checks
The Validator undertakes multiple layers of checks to confirm that the data complies with the IATI Standard schema and rules. The tool then provides validation reports to indicate where errors have occurred and what specifically needs to be changed, including useful guidance links. Different colours are used to highlight errors to help users prioritise which ones they should address first.
Get support
For more information on the release of Validator v2.0 and to get support, organisations can: