We are pleased to announce the release of a new extension called 'Connect Collaborate'. Through this tool you can collaboratively and simultaneously co-edit text with other members of the IATI community. The feature allows you to use track-changes or leave  a comment to ask  for feedback on a document, work together on the programme for a future event, collect inputs on your next strategic plan and much more!
---
As author of the text you need to follow these easy steps to start your own Connect and Collaborate-document:
STEP 1: Create your Collaboration-Topic
Connect Collaborate only works by creating Topics: click '+' on the top menu bar, then 'create new Topic'. Alternatively create a Topic inside your Group;
Make sure it is clear to others that this is a collaborative post by adding 'Collaboration' at the start of your title;
Do note that importing a document is not possible, so you will have to copy-paste the text into the Topic;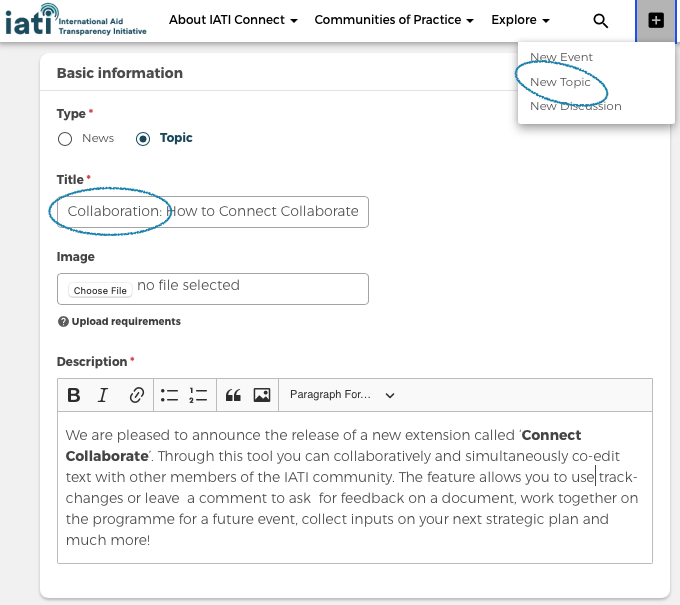 STEP 2: Choose the right collaboration settings 
Make sure your Topic features in the right Group or leave this open (through 'Access Permissions');
Select whether to allow other users to leave comments and/or suggest direct changes to the text (through 'Settings');
Check the appropriate box(es) and make sure the 'Publish'-box is checked;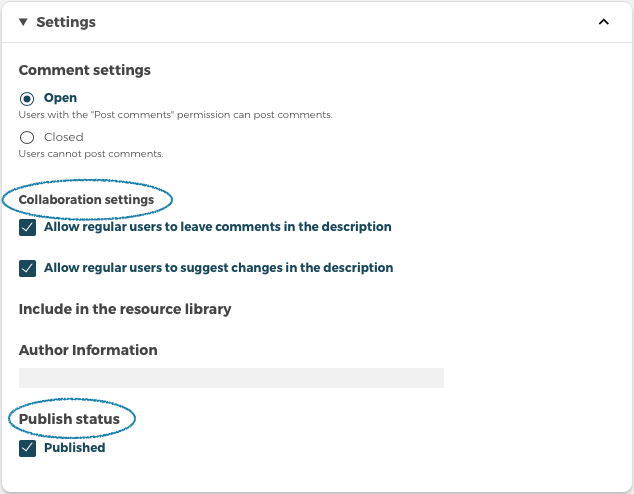 STEP 3: Connect Collaborate!
Via the Collaboration tab you can monitor any comments and/or track changes made by other contributors;
Two important final notes to authors:

Only (co-)authors are able to approve suggestions or accept / reject track changes;
Downloading or exporting all comments is not possible. Before creating the final / agreed text, make sure to store comments (e.g. by creating a screenshot);
---
Being a contributor is simple: click on the 'Collaboration'-tab and directly make track changes in the text. If you want to leave a comment make sure to click on the button that enables comments (see image below).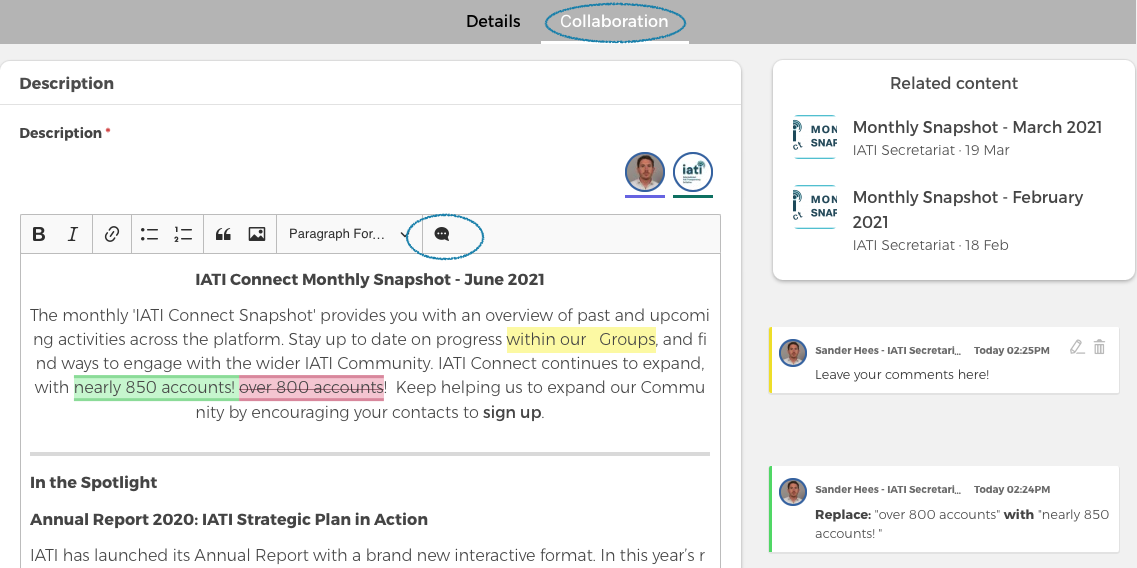 ---
In case you have any suggestions or questions on the use of Connect Collaborate, you can reach us via connect@iatistandard.org.